Questions and Answers – Best WordPress Discussion Forum





Would you like to build a question and answer website with forums like Stack Overflow, Yahoo Answers or Quora on WordPress? WordPress Questions and Answer is the best WordPress Questions and Answer plugin and gives you an easy way to build topic-specific discussion boards or knowledge base.
Complete Questions and Answers System

This WordPress Question and Answer plugin lets forum members ask questions to their community.

Users post answers to questions, upload files, comment on existing topics, and vote for the best answers, depending on their user access.

Forum look and feel can be easily adjusted
Users can quickly locate the right question or browse the forum by searching by keyword, or filtering by the most recent or most popular threads.
Q&A Thread Page

Each question receives its thread page with answers, comments, images and attachments.

This WordPress forum plugin also shows user information associated, if available, such as the number of questions and answers.

Example of a thread page
Users vote on the best answer, so other users can quickly spot the most popular question and answer. The admin can mark questions as resolved once they receive sufficient answers or are old enough to be archived.
Admin Capabilities in the Question & Answers Forum Plugin
The Q&A Forum plugin gives administrators significant control over actions performed on the forum, by topic and user. The admin can moderate what questions can be asked, which answers can be posted, what topics or negative language can be limited. All with notifications and user-specific access restriction capabilities.
Reports and Statistics

Our built-in log & statistics module enables easy tracking of all actions.

Monitor who posted questions, when, and on which categories. Display a table or graph and export the data.

Admin Reports Dashboard
The WordPress forum plugin lets the admin filter content, customize the display of the forum in many ways, and create multiple forums on the same site using specific categories.
User Capabilities in the WordPress Forum Plugin
With this complete Question and Answer system, users enjoy a wide spectrum of options such as multiple file uploads, social media login, user profiles, private messages, and user voting.
User Notifications and Updates

Users can post private messages to other users on the forum and subscribe to categories or specific topics.

This way, they will receive notifications for interesting updates.

This is ideal when creating a WordPress Support forum, and makes tracking tickets easy.

Answers Robust Notification System Settings
Charging Users In The WordPress Question and Answer Plugin
The WordPress discussion plugin can be integrated with several other WordPress plugins including the MicroPayments Platform which adds a virtual currency layer to require users to pay when asking or answering questions.
Monetize Your Forum

Charge users for asking or answering questions by using the Payments Add-on.

Generate revenue by allowing only a selected group of users to interact in your forum.

The add-on supports PayPal, Stripe, and many more payment gateways via both EDD (Easy Digital Downloads) and WooCommerce.

Define how much it costs to post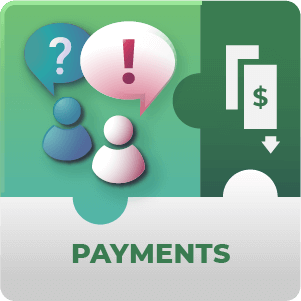 Answers Payment
Charge users for posting Question and Answers. Set a price for asking or answering questions and users will only complete the action after payment. Supports both the EDD and WooCommerce cart systems.
Answers Plugin Localization and Supported Languages
Easily Localize the Q&A Forum

All frontend labels can be easily changed to any language so the user interface will speak your language.

We already have PO/MO files for many languages covering the plugin frontend interaction.

Plugin Labels Settings
Supported languages include: Spanish, Polish, German, Danish, French, Italian, Russian, Czech, Dutch, Portuguese, Swedish.
We will be happy to assist building other PO/MO files upon user request.
More Forum Plugin Use Cases
Question Answer Website – Build a site such as Quora and StackExchange and let users ask and discuss hot questions about all topics.
Gaming Community – Create a forum for each gaming console or genre and invite users to debate their favorite games
School Message Board – Use CM Answers as a WordPress message board plugin. Establish different boards for each class and one just for teachers.
Award Points – Run a short-term contest and award the users who post the best answers in the WordPress Forum.
Get Benefits – Ask users general knowledge questions and receive innovative ideas for your next strategies.
Using the WordPress Question and Answer Plugin
Robust Forum System – Integrate a comprehensive Q&A forum inside your existing WordPress site.
Versatile Shortcodes – Use shortcodes to place the forum anywhere on your posts or pages.
Replace WordPress Comments – Replace the default WordPress comments system on any given post.
Multiple Forums – Use categories to create multiple forums on your WordPress site.
On-Page Navigation – Use Ajax browsing mode for seamless transitions when users access different parts of the forum.
Powerful Forum Search – Users can search the forum history and filter discussion boards to quickly find answers.
Forum Notifications – Keep your users notified on Q&A threads they are following.
Forum Access – Decide who can view each forum, who can ask questions, or who can answer questions with detailed plugin access controls.
Forum Moderation – Powerful moderation tools allow the admin to limit allowable content or restrict postings with offensive language.
Forum Points System and Badges – Reward users with points and badges for posting questions or answers on your forum.
Multisite Compatible – This WordPress plugin is multisite-compatible under the following conditions: Each site needs to have its unique license; Data is not shared across sites.
Most Views – Users can see the popular questions under the "most views" tab.
WordPress Question and Answer Plugin Additional Resources
WordPress Question and Answer Plugin Related Blog Posts